To make an investment commitment under the name of an entity in the future, you can add your entity information to your account.
To make an investment commitment under the name of an entity (ie. a trust, company, etc.), you will first need to add it to your account. Please keep in mind that these investment commitments must be funded by a bank account under the corresponding entity. You cannot fund an investment commitment under an entity from your individual bank account.
How to add an entity to your Netcapital account:
1. Log in to Netcapital and click on Invest in the header. This will bring you to a list of companies raising on our site.
Choose to view the offering of any company.
Click the yellow "Invest" button for any company.

You will NOT need to finish any investment commitment to complete this process

.
Enter any details that are needed until you get to the part where you are asked, "In which name will you hold these shares?"
2. Click on "A different holding entity or trust," shown below: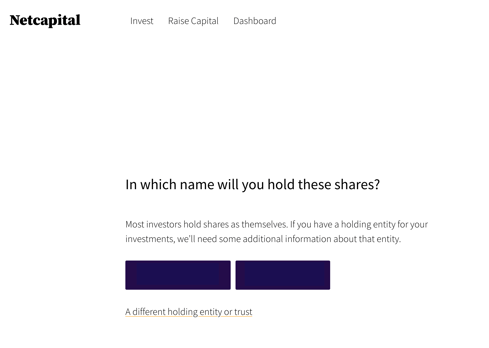 Fill out all the following details:


Entity Name
Entity's Address
Entity's TIN
Estimated Income of the Entity
Estimated Net Worth of the Entity
3. After selecting the income and net worth, you can stop here. You can exit the page by clicking your name on the top right of the page. Select "Settings."
4. Once you are in your Settings, scroll down until you see your entity's information. Go to the "Documents" section.
Here you will be required to upload one of the following documents so we can verify your entity.
Documents we accept:
Tax statements
Certified Articles of Incorporation
A government-issued business license
A partnership agreement, or a trust instrument.
Once you have uploaded a document, you should have submitted all the information needed to make an investment commitment under your entity. If we need any additional information, our team will reach out to you. If you have any questions, please email help@netcapital.com and a team member will be ready to help.

To make an investment commitment under your entity's name, you can choose your entity the next time you invest!